Fast and Efficient Rubbish Collection Services in Crystal Palace
You are in your house, or garden and you are surrounded by rubbish and unwanted things that have accumulated over time. Your loft is crammed with things you have kept up there for years and never had the time to clear away. Are these scenarios familiar? It is because of reasons like these that people leave rubbish and other unwanted things in their house. They simply don't have the time to deal with them, so the problem just gets worse. What you need is a company that can take all your waste away with no fuss or hassle. Rubbish Removal Crystal Palace can do just that and more! We have a fast and efficient Crystal Palace rubbish collection service that can tackle any issue with accumulated junk you may have in Crystal Palace. Just call 020 8396 7456 now and we will give you all the details of our services. You will also get a free quote. You will see for yourself that our waste removal service is second to none in the area in terms of both quality and price.
Expert Rubbish Collectors at Your Service in Crystal Palace
We can offer you a variety of different services in the SE19 region depending on your needs. We have rubbish clearance teams that are trained to cope with any eventuality. It doesn't matter what you need to dispose of, or how much junk there is, we can always come up with a solution. You don't want to be trying to dispose of all your rubbish by yourself. It can be very difficult if you don't have the correct vehicle and tools to be able to clear everything properly. Once you know what needs to be cleared, contact us on 020 8396 7456, and one of our experts will discuss everything with you. When you have decided on the best option, they will be able to give you a free, no obligation quote on your rubbish removal job. Since we cover the entire SE20 area, we are always on hand to take care of your rubbish.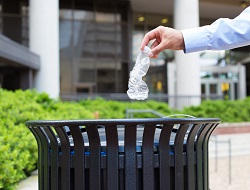 Hiring us to work on your behalf is a great choice. We have a lot of experience in the waste removal business, and we have used that to create a really comprehensive range of SE19 rubbish collection services that can cater for any job. The same applies for our prices as well. We don't want rubbish disposal to be expensive for our customers. So, we have devised a really competitive range of prices that can suit any budget. Our teams of professionals are fully equipped and able to complete any junk removal task. They are friendly and willing to give help and advice if needed. This is why we think we have the best prices and the best service in the entire SE19 region. Give us a call and have a chat with one of our advisers to see what we can do for you.
Leave the Rubbish Collection from Your Property in SE19 to Us and Enjoy Your Free Time
We are justly proud of our service, and that includes everything from beginning to end. When we have completed a junk clearance job, we will dispose of all the waste in the best way possible. We will either try to recycle where we can, or we will use an authorised disposal centre. Either way, you can trust that we will always follow the current legislation.
If you need rubbish collection anywhere in the SE20 district, look no further than Rubbish Removal Crystal Palace. We can give you the service you need, and that too at a competitive price. If you need more information about the services we can offer in the Crystal Palace area, call us and speak to one of our helpful representatives. They will give you all the help and advice you need and a free estimate how much your rubbish removal job will cost. Book a service now on 020 8396 7456 and treat yourself to a junk-free home!
Save